Published on
Drafthound: Fantasy football meets betting.
Authors
A quick foreword:
This post dives quite heavily into the subject of betting. While this post may take a positive tone in places about how Drafthound is able to create value and potentially channel it into revenue, I would like to make clear that I do not endorse betting. This is not an advertisement or an endorsement for any services mentioned in this post. Please exercise caution while gambling. As always, if you liked this post or anything else on this site, feel free to message me on LinkedIn or Twitter and start a conversation if you want to chat more!
Introduction
The Premier League (PL) is the most-watched sports league in the world. Millions of football fans tune in from over 200 countries to catch icons like Mohammed Salah, Harry Kane and Cristiano Ronaldo play week in week out.
While some fans stop there, others take it a step further and delve into the world of Fantasy Premier League (FPL) or its alternatives. Lurking not much further, is the world of sports betting. Eerie similarities exist between both worlds, and Drafthound/Oddshound is an example of how to tap into a user base and nurture them into this rabbit hole.
I'll also be diving into how Drafthound potentially makes money, the caveats of their business model, and take some guesses on what could come next for them.
Contents:
---
What is FPL?
FPL, is the official fantasy football game of the Premier League, with over 9 million players. Fantasy managers assemble a team of 15 players who are competing in the PL, and are awarded points for actions their players make during matches in real life. Naturally, fantasy managers tinker away to pick the team that will get them the most points and the best overall rank, week by week throughout a football season. FPL is not the only game of its kind either, with multiple free and paid variations all building off the same core concept.
Why is FPL so popular?
FPL has double the number of players today than it did just 4 years ago. I would chalk down the success of FPL to 4 key reasons:
Thrill: FPL makes watching the PL more fun as there is skin in the game. This gives fantasy managers added incentive to root for players and enjoy games that they would have otherwise not watched. There's no greater thrill than seeing your punt striker haul a goal or two.
Bragging Rights: FPL has a global leaderboard, in which players chase higher ranks to prove their managerial prowess. In addition, players can form 'mini-leagues' which allow them to compete in leagues with their friends. A common theme in mini-leagues is to have prizes for winners (paid for by the members of the league), in addition to bragging rights.
Network Effects: When your friends are spending a significant amount of time chatting about something, odds are you'll get involved in it too. Much of FPL's growth is via word of mouth.
Free-to-play: FPL is fully free to play, and has no paid tier. The only real cost is time (and mental health when your team fails to deliver).
---
Applying method to the madness and the FPL content explosion
While the concept behind FPL is simple, the rules and nuances of the FPL game (like the scoring system, budgets and player prices, the real-life football landscape) make it a challenging game to truly succeed in. Most fantasy managers take a good season or two to fully grasp the concepts.
No two seasons in FPL are the same either. The rise of attacking wing-backs in the Premier League, like Alexander-Arnold and Reece James, has completely transformed the approach to assembling teams this season. Players need to stay on top of things or risk falling behind, fast.
The FPL scoring system can be absolutely brutal to boot. Owning a high-scoring player that isn't popular (a "differential pick") can improve your rank significantly, while not owning a player that is popular (a "template pick") can drop your rank by the millions. As a long-time FPL player myself, there are some days where I anxiously tweak and re-tweak my team to make sure I have the right picks.
Some fantasy managers choose players on gut feel, others pick based on an 'eye-test' (the player looked threatening in a real match and showed promise), and some delve deep into statistics to pick their team. With hundreds of football players to choose from, ever-changing form and fixtures, injuries and more, it can be a nightmare to pick a team that catapults your rank.
While data and sound logic can dictate a lot of FPL decision making, it is undeniable that you only can improve your odds of scoring well, not guarantee it. In other words... a game of luck, with some skill involved.
Enter, FPL content creators
Multiple content creators have cashed in on the popularity of FPL, and the plight of fantasy managers. A wave of YouTubers, bloggers, podcasters and more have jumped in to offer their punditry on the game. For example, Abu Bakar Siddiq, popularly known as @BigManBakar, has amassed over 90K followers on Twitter by creating a free weekly thread with a cult-like following that provides player recommendations backed by solid data analysis.
BigManBakar is one of many influencers, racking up thousands of followers and millions of impressions. FPL players like myself 8 years ago had to learn things the hard way, but new managers are thriving off some great work being done by some truly outstanding content creators.
Some managers are so invested in the game, they subscribe to paid Patreon packages offered by 'FPL experts' with a good track record for exclusive insights and team advice. Others choose to pay money for statistical data collected by companies like Opta. Such is the allure of FPL domination, that people are willing to spend on a game of probabilities.
(See the similarities between betting yet?)
---
FPL is a perfect gateway to betting
The reasons why players enjoy FPL have an overwhelming overlap with the reasons why people choose to bet. Thrill, skin in the game, the instant reward from a successful bet, along with the extremely low entry costs make it a similar boat to jump in. Even if fantasy managers are not participating in traditional betting, a study by Nottingham Trent University found that over 50% of fantasy football players engage in some form of fantasy betting via paid fantasy football competitions or leagues.
The evolution of the betting industry to allow gamblers to build complex custom bets can't be ignored either. Here's an example from a popular betting service that demonstrates how players can stack multiple bets to increase payout odds due to the increased risk involved.
Data Overlap
One of the key reasons fantasy players construct such bets is due to the data overlap which sufficiently serves both worlds.
FPL managers look at a variety of data sources to build educated guesses on who to pick. Sports statistics sites like Opta, FBRef.com and even betting odds, all help. The rise of FPL creators has only hastened the delivery of this data to the hands of even average players.
It goes without saying, but the granularity of data has completely transformed the way FPL managers see the game. For example, I find myself often checking statistics on which side of a particular team's defence is weaker, to pick football players that have a higher chance of scoring against them. Moves like these helped propel my FPL rank to the top 5000 of 8 million players this year. When strategies like these pay off, they reinforce a fantasy manager's confidence and trust in their decision-making model.
The devil is in where one chooses to apply their findings: on a game for virtual internet points, or a betting site for real money. For some managers, it's why not both?
Betting ads are inescapable for football fans
The other aspect to be considered is that betting and football have gone hand in hand for many years now. While laws have gotten steadily more restrictive around betting ads and gambling worldwide, fans are constantly bombarded with cues to wager their money on the sport they love.
Betting + Football in numbers:
10 of the 20 teams in the Premier League have betting logos on their shirt, while 19 have a betting partner.
The EU football industry earned close to $500M from betting sponsorships in the 20/21 season, with the Premier League taking a $100M+ share. ᴿᵉᶠ
The global sports betting industry itself is projected to be worth over $140bn by 2028. ᴿᵉᶠ
Stoke City, a prominent football club in England, is owned by the bet365 group, one of the largest betting companies in the world, and play their games at the Bbt365 Stadium.
---
Enter Drafthound.
Drafthound is the marriage of everything we've talked about so far. The Drafthound site has a 'recommendation engine' which ranks football players, provides odds on a player or team's likeliness to score or assist goals, and more. One of the aspects of Drafthound I think works well, is that it can appeal to both casuals and enthusiasts alike. Casuals are presented with recommendations on a more consumable basis, while enthusiasts can deep dive into multiple statistics.
The Drafthound website is a product of its own, but I think it is one of the most sophisticated content marketing strategies out there.
What makes it click is that represents a perfect understanding of everything the FPL player needs:
Player Recommendations and Predictions
Player Performance Data
Player Comparison Tools
Team Lineup Predictions and Fixture Analysis
Articles and Content around team strategy
While this might seem a no-brainer when broken down like this, there was no single source of all this information available, at least for free. Many different resources do one or the other, but few have been able to combine all of this into a neatly packaged free resource the way Drafthound has.
This sort of value creation, combined with aggressive marketing via existing FPL influencers has helped Drafthound rack up over 100K monthly visitors to its website.
So there's the bait, now where does the fishing line lead to?
Drafthound's recommendation engine would be rather wasteful if it was squandered providing free insights to FPL players. The real value of Drafthound's algorithm is visible on its sister site, Oddshound.com.
Oddshound looks for arbitrage opportunities across multiple bookies. In other words, Oddshound aims to predict the likeliness of the outcome of an event itself, and estimate which bookies have underweighted their betting odds.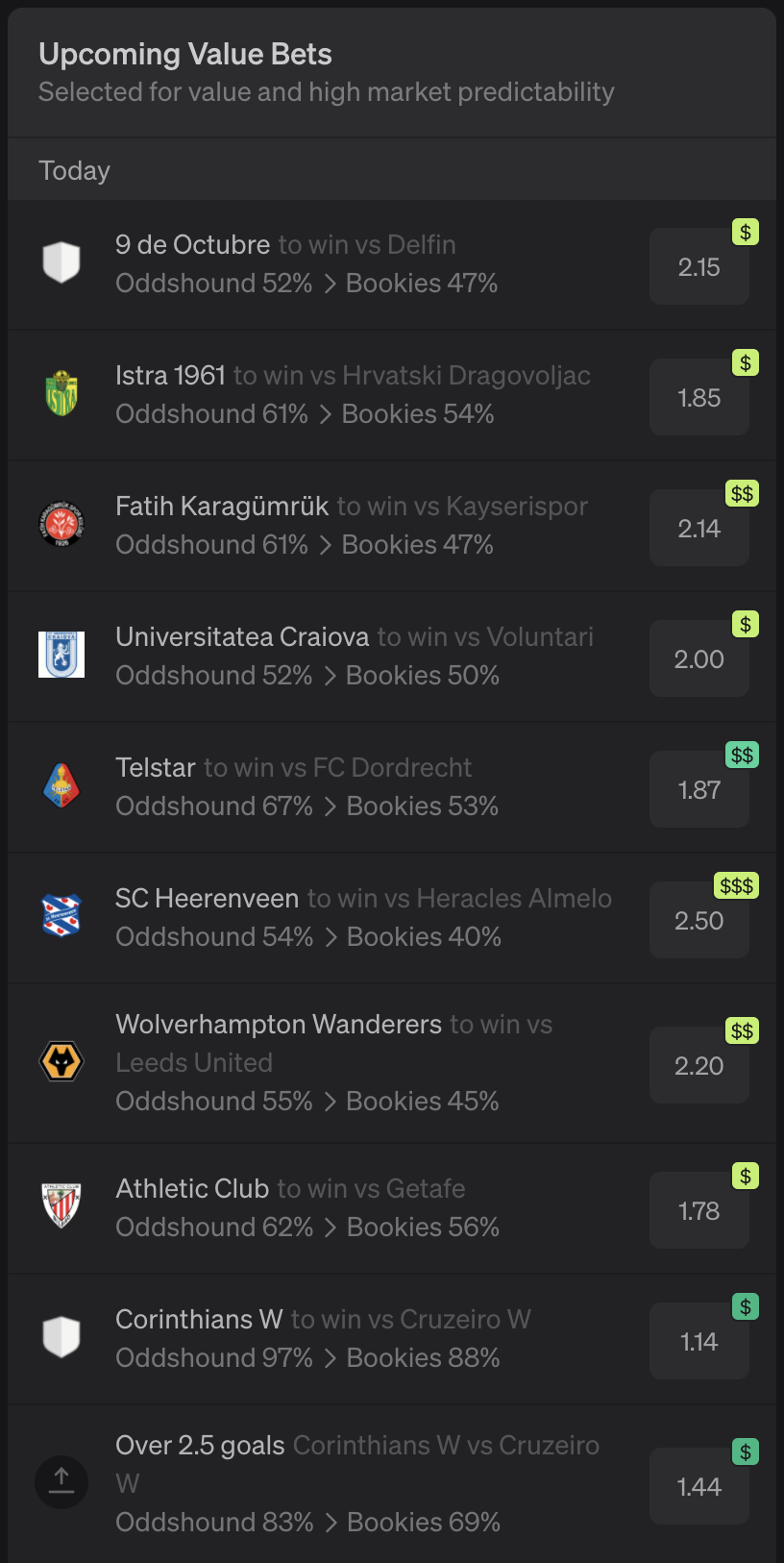 Just like an options trader would 'hedge' against multiple market scenarios, Oddshound pushes the idea of a 'betting strategy', to make multiple bets backed by data, to end up in the green overall. Oddshound lists games from over 93 leagues and provides predictability scores for multiple bet scenarios, across several different bookies to provide recommended bet strategies.
Close to half of Oddshound's traffic comes from Drafthound!
It is a testament to Drafthound's understanding of the FPL persona, that they've created two products that sit this well side by side, to create their business model.
---
How does Drafthound make money?
(P.S. I'll use the terms Drafthound/Oddshound mostly interchangeably from here on as they both refer to the same group and entity.)
As neither Drafthound, nor Oddshound are monetized directly, the answer is fairly straightforward. Affiliate Marketing Revenue, and Ad Revenue.
Oddshound is peppered with affiliate links to multiple major betting houses. Every bet displayed on the Oddshound website links to a bookie with an affiliate link. Drafthound also displays ads for other paid fantasy sites, NFTs and football-related services.
Affiliates like Drafthound earn money in one of three ways:
Commissions: Bookies like Bet365 pay a lifetime flat 30% commission on net revenues from a customer referred by Drafthound.
CPA (Cost-Per-Action): Bookies pay out money for very specific actions performed, like a customer signup, or money deposited.
Hybrid: A mix of both commissions and CPA payments.
Well run gambling affiliate sites can quickly become a massive source of revenue, turning hundreds of thousands of dollars every year.
While CPA payouts can be very lucrative, they are usually structured to provide value very early on in the customer's betting journey, and not throughout the lifetime. They are also usually one-shot payments that work only for the first referral, and not for returning customers. As commission models pay out consistently over the lifetime of a customer, they can help affiliates capture consistent revenue from regular betters.
The flaw in the plan.
While commission models promise a lifetime cut on revenues, they are usually riddled with fine print which renders them closer to commissions on profits. Betting companies use the term 'Net Revenue' to describe the actual profits earned after any payouts on successful bets per customer.
If you've read this far, you now recognize that Oddshound has a problem. Oddshound is designed to help users win more bets with its prediction model. However, commission models will pay out only if the user ends up losing more money than they make. If Oddshound puts its business interests ahead, then its users lose money, rendering the trust in their product useless, having a negative impact all round. Given that most bookies pay out commissions on a monthly basis, it becomes even more difficult for Oddshound to exploit any time-bound opportunities in the commissions model.
So what if Oddshound abandons the commission route of betting earnings and focuses purely on CPA-based earnings?
This is not the worst idea, depending on the company's goals. However, this essentially front-loads revenue for Oddshound, at the cost of future revenues.
There is a limited universe of gamblers out there (Oddshound isn't anywhere near saturating this market, but it is a risk nonetheless).
With multiple affiliate sites targeting vulnerable users, Oddshound is probably not going to be the first affiliate to refer a user, losing out on CPA payments.
They also likely don't make any revenue from existing gamblers who are just happy to use the Oddshound website as a tool to boost their decision making.
---
What next for Drafthound?
With the revenue model of Drafthound throwing their challenges into sharp relief, it becomes a matter of time before Drafthound stops accelerating its revenue growth. They will probably reach a critical mass of new users who enter the system and earn them a CPA-based payment. And the question quite literally becomes, what next? Is it worth spending all this effort tweaking our algorithm, marketing this product, all for the same grind or should we put this to better use?.
I think the chaps who built Drafthound are too smart to have this product be their total endgame, go check out their LinkedIn profiles to dispel any doubt there!
Most probable scenario: Drafthound/Oddshound gets acquired, mostly by a betting company.
The stellar growth of the Drafthound website, and its ability to help users win fantasy leagues is a testament to their product's success. If the Oddshound website can show equally promising results, then there's a prize egg for anyone who is out for the algorithm.
The true value of Drafthound/Oddshound is in their prediction engine. Betting companies like Bet365 could quite literally rely on the Oddshound algorithm to augment their betting odds. A small price to pay for acquiring Drafthound/Oddshound, but a lot to be gained by eliminating inefficient odds that are costing them money. There is an easy ROI case that can be made here.
By going for the CPA-based earnings model, Drafthound would also front-load their revenue numbers and show money coming into the business, giving it more merit on paper. If the founders don't intend to keep it around and have being acquired as a target anyway, this approach makes a lot more sense.
The Drafthound website still serves as an excellent asset to target those who are more likely to gamble/could be nurtured into gambling. Win-Win.
Other scenarios like monetizing the Oddshound website itself seem a little far-fetched to me for a few reasons:
They are far too small to generate any real revenue via this strategy. They will likely earn way more via ads and affiliate marketing.
Such a strategy comes with risks of 'leaks'. Nothing is stopping a group of gamblers from buying a shared subscription to Oddshound and tipping each other off on the recommended bids.
---
TL;DR and a few closing thoughts
Summary
FPL managers are those who are cherry-picking themselves to be the next mass of sports betters due to the evolution of the game, and how data-driven it is becoming.
The ability to place extremely granular, complex bids at jaw-dropping odds, is something that FPL managers will find massively appealing as they do this weekly while setting up their team anyway.
Drafthound.com is a resource that has grasped the needs of an FPL player, and developed a product that gives them exactly what they need. A product in its own right, but it is essentially a highly sophisticated content marketing play.
They also understand the synergies between FPL and betting, and developed Oddshound as their primary revenue source.
It isn't as rosy as they might like, due to the nature of affiliate payouts from bookies. This makes Oddshound/Drafthound a game of diminishing marginal growth over time (even though they are far away from it).
As a result, Oddshound will quickly become a product that has 'maxed out' and need an endgame. The group who will probably see the most value in a product like Oddshound are bookies themselves, who will easily justify the cost of acquiring them.
Closing Remarks
This post turned out to be a lot longer than I intended. So thanks for reading if you got here! I think the Drafthound product is fantastic. I stumbled upon it as an FPL manager looking for some player odds, and I found a goldmine. Further digging got me into the Oddshound rabbit hole and I find it fascinating that someone is trying to play a game of arbitrage with bets!
Underneath the hood of it all is the Drafthound/Oddshound prediction engine, where the true value lies. I think the folks running the show at Drafthound are doing a fantastic job in demonstrating its value via the fantasy football content, but I would like to dig deep into the success rates of their betting product in the future as well. Perhaps an update post beckons!
And now we wait. I'm excited to see how Drafthound and Oddshound evolve, and if they end up getting acquired in a few years.
If you enjoyed reading this, share it! I'm always up for a chat, so feel free to reach out to me on LinkedIn or Twitter!